Links for Families
2022-2023 School Calendar (Draft)
COVID-19 Screening Questions and Guide (updated 01-10-2022)
Instructions on How to Register for FACTS Family Portal
2021-2022 Student and Family Handbook
Submit Your Child's Covid-19 Vaccine Card Information
Lunch
Based on our Parent Survey and the guidance provided by the State with regard to meal services, Holy Spirit School will not be offering a lunch program this year.
Water Bottle, Snack and Lunch
Families are asked to send in each student with a full water bottle, a morning snack and a lunch. Students attending aftercare should pack a second snack for the afternoon.
The school will endeavor to provide a snack and/or lunch for any student who does not have one.
Volunteer
If you would like to volunteer to help us during lunch periods, please contact the main office to find out how.
Uniforms
***NOTE: The Dress Uniform has been reinstituted for the 2021-2022 school year.
A neat and tidy appearance reflects a responsible and caring attitude, pride in ourselves and in our school. Our uniform represents that we are all equals, and that we do not judge anyone by what they wear or look like. We accept everyone as a unique human being created in the image and likeness of God. You are a welcome and beloved part of the Holy Spirit School Family.
General rules
All students must come to school in dress code and leave in dress code.
Shirts must be tucked in.
If pants, shorts, or skorts, etc. have belts loops a black, brown, or navy belt is required.
A note must be sent with the student if there is an emergency situation that arises which causes them to be out of dress code.
Boys will maintain an above the collar gentleman's haircut.
General prohibitions
No make-up is allowed.
No jewelery except stud-type earrings (girls only) and watches are allowed.
No polo shirts with dress uniforms from October 15th-April 30th. Polo shirts for K-4 are acceptable on PE days.
No low cut or no show socks.
No unnatural colors in hair.
Only clear nail polish may be worn (girls only).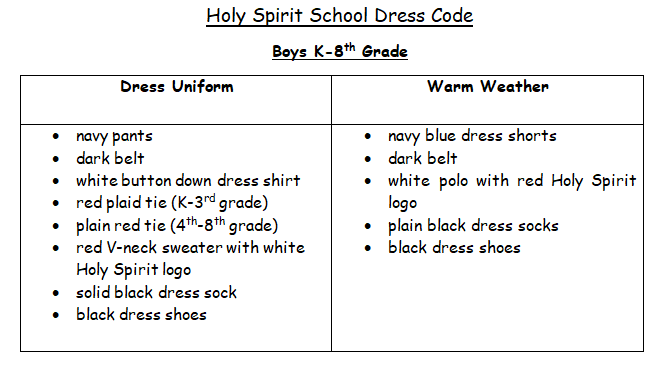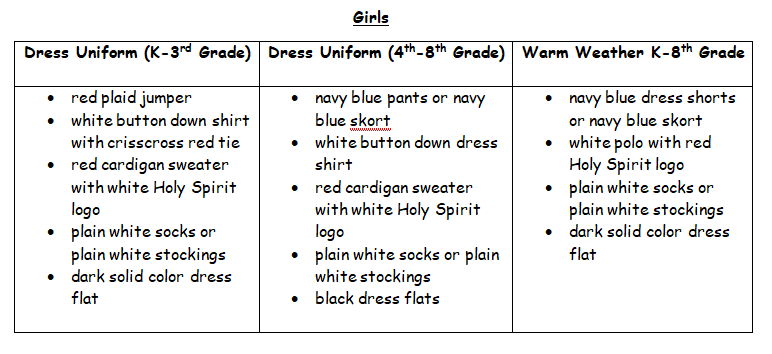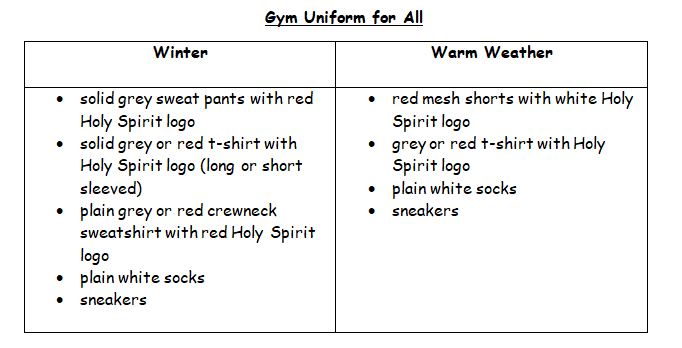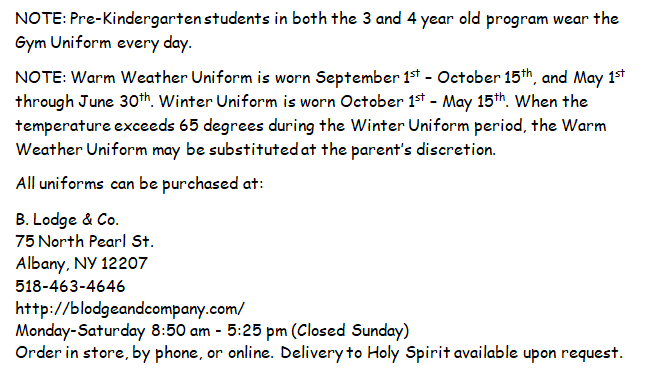 NOTE: The Holy Spirit School logo is the property of Holy Spirit School and may not be used on any apparel or in any way without the expressed written permission of Holy Spirit School. The school has granted permission for B. Lodge and Co. to use our logo for the purchase of providing official uniforms. These are the only uniforms that are allowable under the Holy Spirit School Dress Code.
NOTE: Due to the unavailability of the red sweater for the dress uniform, families are able to purchase a red fleece from Lodge's to wear with the dress uniform for the 2021-2022 school year.
Calendar
FINALIZED 2021-2022 SCHOOL CALENDAR